Funding Policies for ACE Classified Professionals
Conference applications are funded on a first-come-first-served basis, according to your activities dates.
Awards for ACE Classified and Classified Hourly professionals are limited to a maximum of $1600.00 per person in any academic year (July 1 – June 30). To ensure equitable funding throughout the year, funds are divided among summer, fall, winter, and spring quarters.
Plan Ahead!!
Please
submit your application 3
–
4 weeks
ahead
of your activity to allow ample time for the submission
and review process.
Application Review Cycle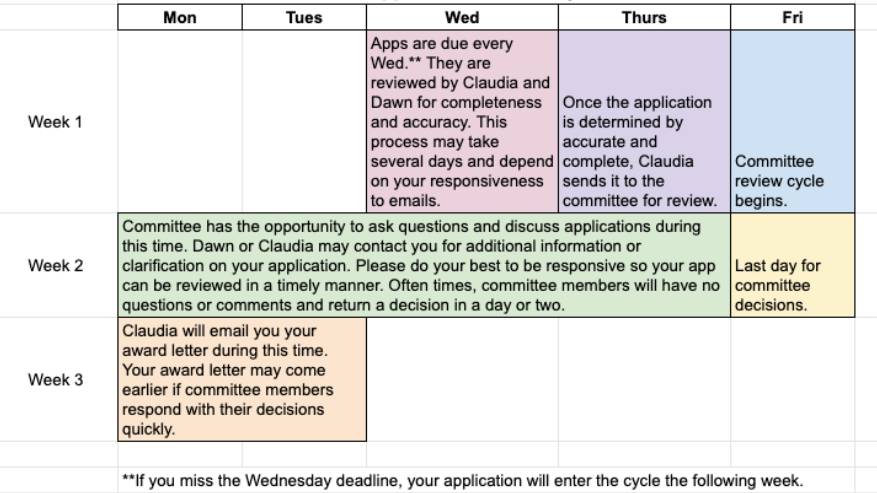 Week 1
Applications are due on Wednesday. ** They are reviewed for completeness and accuracy. This process may take several days and depend on your responsiveness to emails.
Once the application is determined by accurate and complete, it is sent to the committee for review on Thursday.
Committee review cycle begins on Friday.
Week 2
Committee has the opportunity to ask questions and discuss applications during this time. You may be contacted for additional information or clarification on your application. Please do your best to be responsive so your application can be reviewed in a timely manner. Often times, committee members will have no questions or comments and return a decision in a day or two.
Week 3
Your award letter is sent to you this week.
** If you miss the Wednesay deadline, your application will enter the cycle the following week.
Expenses that are covered
Funds are allocated to defray, in part, costs associated with:
Conference/workshop fees
Airfare or driving mileage to the event (maximum reimbursed is 300 miles driving or the equivalent economy airfare),
Local mileage or public transportation to the event,
Parking fees, ground transportation (taxis and shuttles),
Lodging (if 75 miles or more away from campus); [no Airbnb or VRBO-type rentals are reimbursable)
Car rental, if applicable.
Meals not covered by registration fees. Estimate actual meals costs for your application using the maximums for per diem: Breakfast-$10 per day, Lunch - $15 per day, Dinner - $30 per day.
Expenses that are not covered
Membership fees that are separate from conference registration fees.
Enrollment in college or university accredited courses. [Educational Assistance Funds are available from the District. Refer to your ACE union contract, Article 14.8 and Appendix A.]
What to include in your application packet
Submit the original completed application packet to the Professional Development Office for forwarding to the Committee and include:
Your signature on the application.
Your supervisor/dean/manager's signature on the application.
If requesting mileage, Google Directions showing the number of miles from your home or work, whichever is closest.
A copy of the brochure, flyer, program agenda, estimate or receipt, or web pages showing:

the description of the conference or activity
the conference/seminar fee
airfare or transportation expense(s)
hotel fees, including taxes (a good general estimate would be 15% for taxes

A completed and signed International Travel Authorization Form, if planning to travel outside of the United States.
Notification of funding
Award packets are sent to the applicant's FHDA e-mail address within 2-3 business days after the committee meeting, and includes:
an award letter
a Trip Voucher
an Out-of-State Authorization Form (where applicable), and
instructions for reporting expenses
Paying for expenses
Employees are responsible for paying for all conference fees and travel expenses.
Getting Reimbursed
Trip Vouchers are sent to award recipents with their award letter. Your completed trip voucher, with receipts and proofs of payment, are due at the Office of Professional Development 45 days after your conference (the due date appears on your award letter).
What to include with your trip voucher
Your completed trip voucher is due at the Office of Professional Development 45 days after your conference (the due date appears on your award letter) and should include:
a completed trip voucher (the VP of Instruc­tion's signature will be acquired by the Professional Develop­ment Office).
original receipts made out to the attendee for conference fees and transportation, and lodging receipt with an itemized hotel statement.
a copy of the Board approval for International Travel (if traveling outside of the country).
a 1-2 page written summary of the conference.
Receipts and Proof of Payment
The District external auditors require original receipts and proof of payment to be turned in with your Trip Voucher for reimbursement of your approved expenses. Please make a copy of your receipts for your own records before turning them in with your Trip Voucher.
Receipts for expenses paid by credit card must show your name, the completed transaction (showing a $0 balance), the credit card type, and for VISA credit card receipts, the last 4 digits of the credit card number.
Receipts for expenses paid by personal check: you must attach a copy or scan of the cancelled check, both the front and the back sides, showing that it was paid by your bank.
Receipts for expenses paid with cash must show "paid in cash" or you may record "paid in cash" on the receipt and initial it.
Receipts for expenses paid by PayPal must show the last 4 digits of the originating credit card, or be accompanied by a credit card statement showing the completed transaction (all information except for the transaction and the last four digits of the account may be blacked out).
Getting Reimbursed from Multiple Sources
If you have been approved for secondary funding for your activity through your division/department budget or campus grants, you should plan to turn in ALL receipts for reimbursement on the Professional Development trip voucher that was sent to you. The manager of the secondary funds should fill in the amount of reimbursement and the appropriate budget code/FOAP at the top of the trip voucher, and sign the bottom. The trip voucher and receipts then go to the Office of Professional Development to complete the processing and obtain the final signatures.
Getting Your Department Reimbursed
If your division or department has already paid for part or all of your approved conference expenses with a District purchasing card or Direct Pay Request, then the Professional Development Office will process the necessary paperwork to transfer the expense to the appropriate conference and travel budget. You must obtain a copy of the Budget Query or a budget report showing the transaction of the expense that has been charged to the department budget and turn that in with the matching receipts for processing with your trip voucher.
If your expenses exceed your award
Submit your completed trip voucher and receipts with a cover letter requesting additional funds to the Professional Development Program Coordinator (Claudia Guzman, x8322). The request will be reviewed by the committee at the next scheduled meeting, following these guidelines:
It was determined that the committee or the Professional Development Office made a mistake in the calculation of your award amount, or
Something unforeseen came up that was unexpected and out of your control, such as illness, your flight was cancelled or changed by the airline, the event start or end time changed.
The committee will send the final decision on your request via e-mail within 48 hours of the meeting.