First Saturday of Every Month
The next De Anza Flea Market will be held on Saturday, October 1, from 8 a.m. to 2 p.m.
De Anza Flea Market
21250 Stevens Creek Blvd. Cupertino, CA 95014
Parking Lots A & B
Application is open on Wednesday, September 7 through Marketspread.com. Sign up closes on Monday, September 26. Payment is in advance of space assignment. No payments accepted after Wednesday, September 28. Be sure to mail in checks or money orders payable to DASG Flea Market early to ensure space. Sorry, no walk ins on the day of the market.
Welcome to the Flea Market!
The De Anza Flea Market began as a small effort by the students of De Anza College to raise money for student body activities and projects 50 years ago. It has grown into an established community event, attracting vendors and patrons from throughout the state.
The Flea Market is still a student enterprise, with the De Anza Student Government (formerly De Anza Associated Student Body) paying for all the expenses and gaining approximately $300,000 annually for a variety of programs, services and events at De Anza College.
Each month, the Flea Market offers about 825 vendor stalls, which usually fill very quickly. If the weather is good the Flea Market will typically draw approximately 15,000 to 20,000 shoppers.
The Flea Market is held the first Saturday of every month including holidays, rain or shine. Administrative offices will be closed on other holidays. (See the list of office closures.)
No dogs or other pets are allowed, except for service animals – see the Foothill-De Anza district Board Policy BP 3441: Animals on Campus
Do Your Part: Reduce the Spread of COVID-19
De Anza College and the Foothill-De Anza Community College District are committed to protecting the health and well-being of students, faculty, staff, administrators, vendors and the communities we serve.
The college and the Flea Market need your help for a successful, and continued, re-opening. We encourage all Flea Market vendors and patrons to be fully vaccinated against COVID-19.
In the absence of vaccination, or if you wish to provide further protection for yourself or others, we strongly encourage that you wear a face mask.
Vendors and patrons are requested to stay home if they are experiencing any COVID-19 symptoms or have been recently exposed to anyone who is sick.
Upcoming DASG Flea Markets
First Saturday of every month. New hours 8:00am – 2:00pm.
Mark your calendars for the First Saturday of the Month:
October 1, 2022
November 5, 2022
December 3, 2022
January 7, 2023
February 4, 2023
March 4, 2023
Vendor Sign Up
We have an online process for your application. Booths will be assigned first to Six-Month Contract Holders.
This application process requires you to have an email address and access to a computer or mobile device (desktop, laptop, smartphone, or tablet); there will not be a walk-in registration process. Start the application process and if you have any questions, assistance will be provided. Returning vendors will need to sign up for each month participating but the application process is a one time process.
Video from October 6, 2018 Flea Market
Special Thanks to De Anza College newspaper La Voz News for the video.
Job Opportunities for Students
Aerial Views of the DASG Flea Market
Click on images for a larger view.
DASG Flea Market July 2, 2011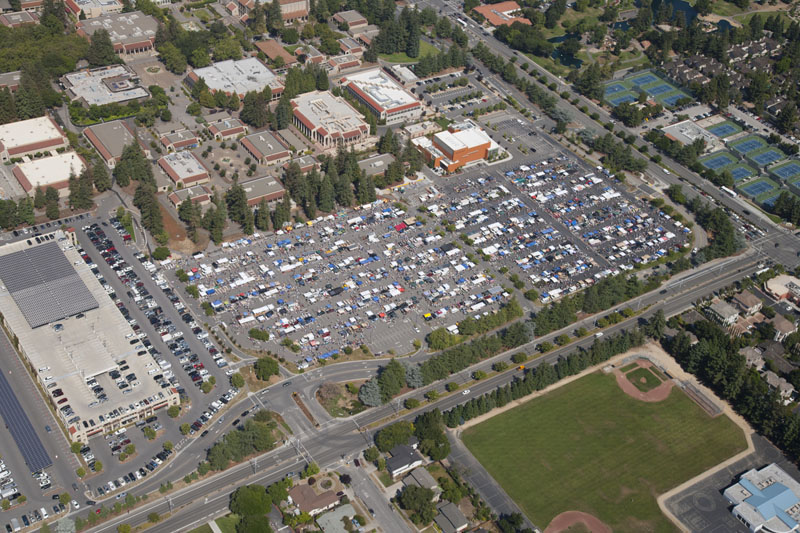 DASG Flea Market October 6, 2001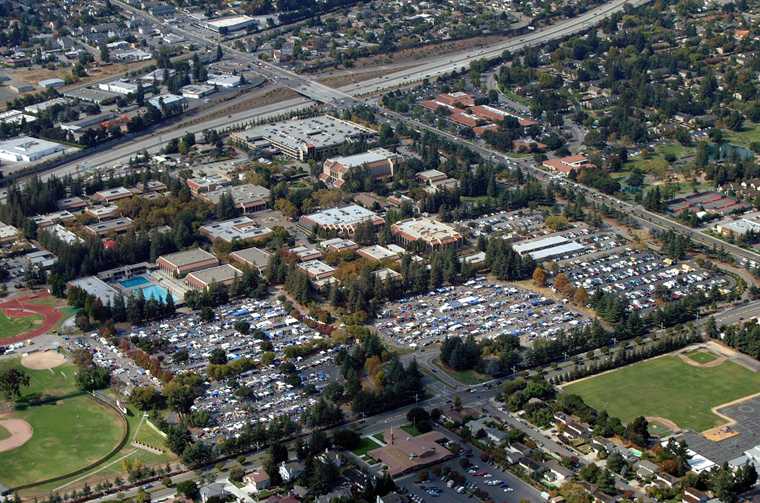 DASG Flea Market Circa Early 1980s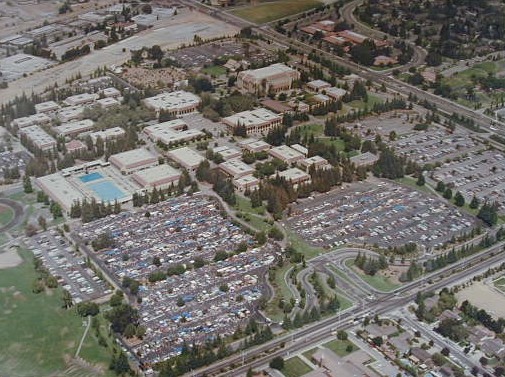 Thank You for visiting our website. We hope to see you at the next market.