Disability Placard or Plate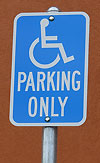 There are designated disability parking spaces in every lot and garage at De Anza. If you have a California disability license plate or placard (blue for long-term or red for temporary) issued by the Department of Motor Vehicles:
You may park in any designated blue disability parking space, or in any available student or staff parking space
You do not need to purchase a parking permit
Special wheelchair parking: Some disability parking stalls are extra wide for the convenience of people who use wheelchairs. Please don't take one of these spaces unless you are using a wheelchair.
Temporary Disability
Students who are temporarily disabled may apply to the college for a Temporary Disability Parking Permit. These are available in the Disability Support Services office at De Anza, located in building RSS 41, and the Disability Resources Center at Foothill College, in Building 5800.
You may be asked to provide a letter of verification from a licensed physician.
Your temporary disability permit will be valid for no longer than one quarter.
You will still need to display a valid, paid parking permit.
The temporary permit allows you to park in any staff or student lot – but not in designated disabled parking spots and not in the 30-minute parking spots in front of the Registration & Student Services building.
Questions About Parking?
Contact the Foothill-De Anza district police
Lower level in the Campus Center

For non-emergencies, call 650.949.7313