Groups and Workshops
Sessions Will Resume in Fall
These groups and workshops are not available during summer session, but they will
resume in fall quarter.
Click each link or scroll down for group descriptions and meeting schedules.
---

Online Drop-In Sessions
You can speak with a Psychological Services counselor without an appointment during our online "drop-in" group session, held every Friday from 11 a.m. to 11:45 a.m., – except on campus holidays.
This is a support group setting, meaning other students may join during this time. This is an opportunity to speak with a counselor without an appointment. However, private individual support is not guaranteed and depends on how many students join as well as how many counselors are participating. Please click the yellow button to join via Zoom.
---

AAPI Process Group
New AAPI Group for Spring Quarter – Every Friday for a closed group.
The AAPI Process Group will be open only to students who sign up in advance. This will allow greater privacy by limiting the group to about 10 participants, with the same individuals meeting each week. You must be enrolled in at least one spring quarter class and identify as Asian American Pacific Islander or Asian Pacific Islander to participate. The group meeting time is every Friday for a closed group of students who signed up in advance. If you're interested to join this group for the Fall quarter you can reach out now to hold your spot and we will confirm your registration during the Fall quarter.
To sign up:
Please contact us at the above address if you have any questions. We look forward to hearing from you!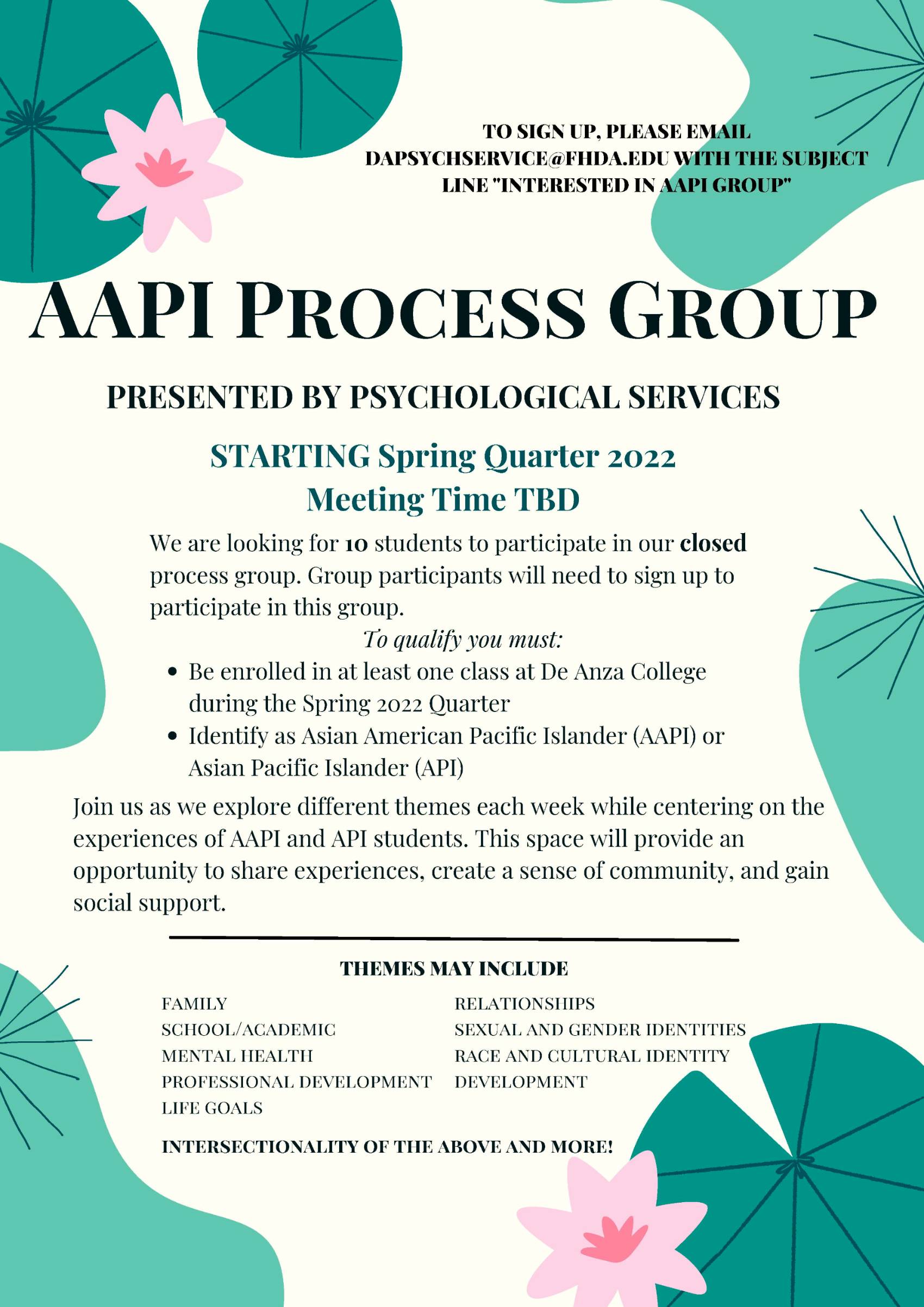 This weekly session is intended to provide a safe, inclusive and comfortable space for AAPI-identified students to share their experiences, create a sense of community and gain social support. (You must identify as an AAPI individual to join, please.)
Themes may include
Family
School
Mental health
Professional development
Life goals
Relationships
Sexual and gender identities
Race and cultural identity
Development
intersectionality and more
---

Creative Expressions Group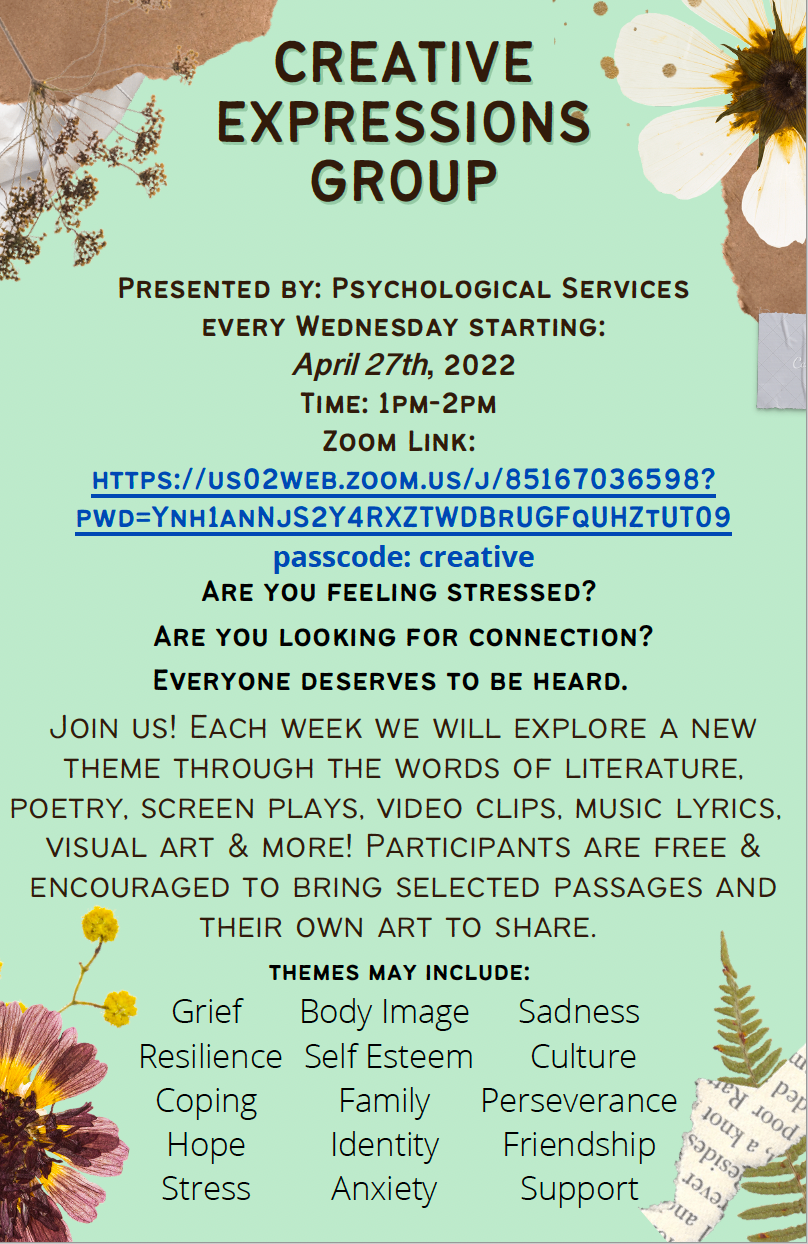 Every Wednesday from 1 p.m. - 2 p.m.
Are you feeling stressed? Are you looking for connection? Everyone deserves to be heard! Each week we will explore a new theme through the words of literature, poetry, screen plays, video clips, music lyrics, visual art and more. Participants are encouraged to bring selected passages and their own art to share.
Grief
Resilience
Coping
Hope
Stress
Body Image
Self Esteem
Family
Identity
Anxiety
Sadness
Culture
Perseverance
Friendship
Support
---

LGBTQ+ Group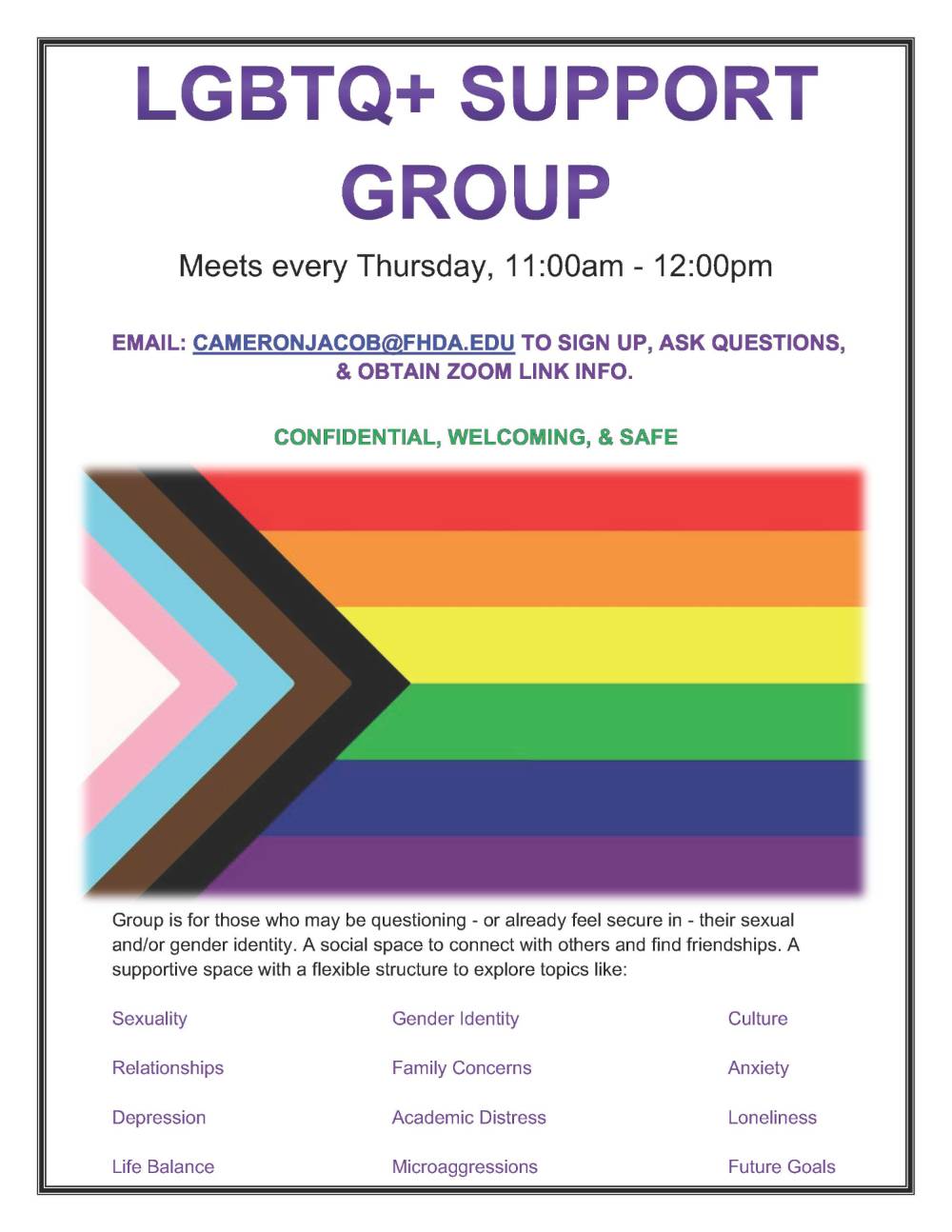 Every Thursday from 11 a.m. - 12 p.m.
Email: cameronjacob@fhda.edu to obtain zoom link
Confidential, Welcoming, & Safe
Group is for those who may be questioning - or already feel secure in their sexual and/or gender identity. A social space to connect with others and find friendships. A supportive space with a flexible structure to explore topics like:
Sexuality
Gender Identity
Culture
Relationship Stress
Family Concerns
Anxiety
Depression
Academic Stress
Loneliness
Life Balance
Microaggressions
Future Goals
---

Seeking Safety Group
This group is intended for students who identify as female and is designed to help share safe and healthy ways of coping with trauma and substance misuse. The group will be conducted by Trista (she/her/hers) of the Bill Wilson Center in San José.
You must sign up in advance for this group, which will meet via Zoom on Tuesdays from 4:30 p.m. to 6 p.m. To sign up, please send an email to Trista at Ttugman-mendez@bwcmail.org
This group might be right for you if:
You are trying to cope with past or current trauma
You feel out of control of your emotions or reactions sometimes, feel numb
You are using drugs, sex, food or other ways of coping that are putting you at risk
---
Transfer Support Group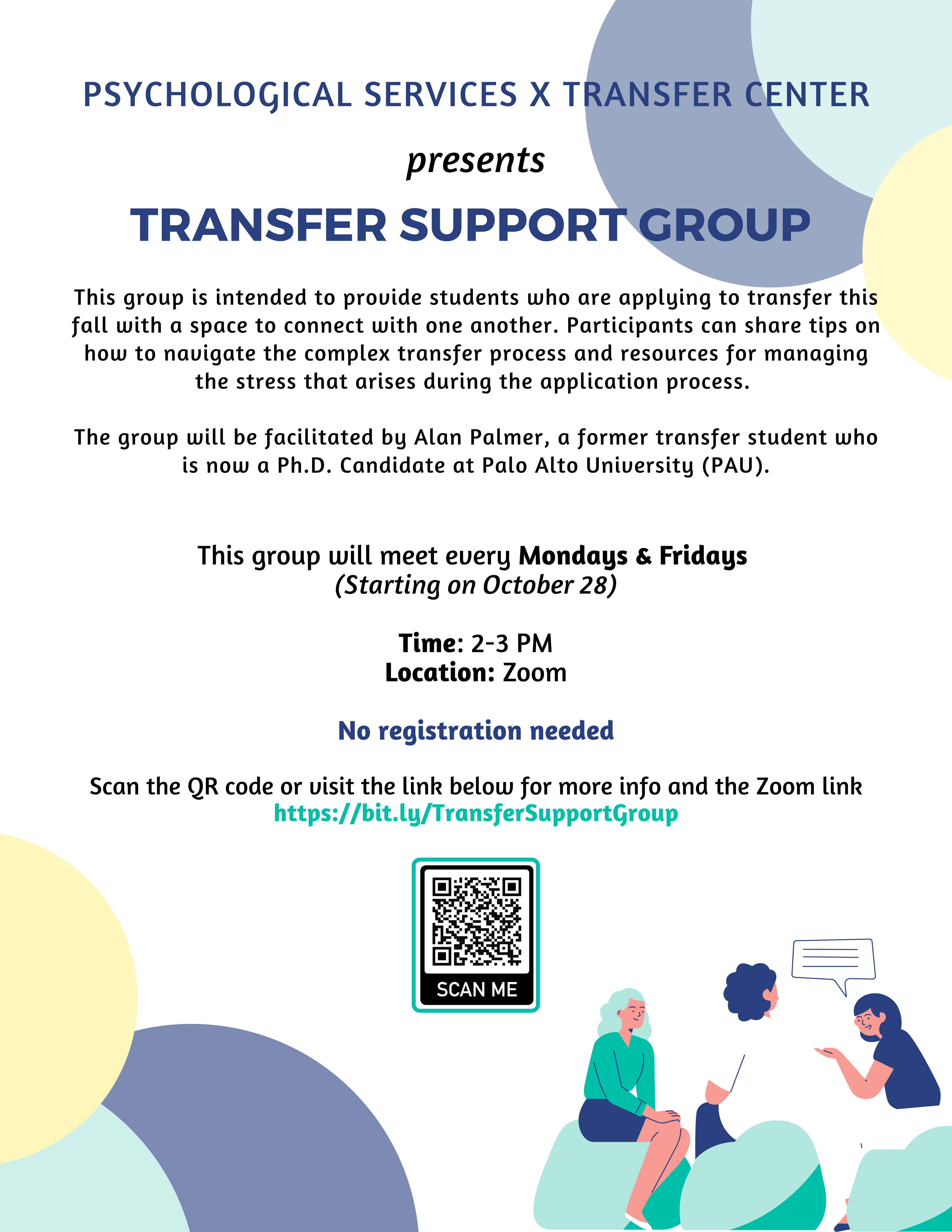 Starting October 28, Mondays and Fridays from 2-3 p.m.
The group is intended to provide students who are applying to transfer this Fall with a space to connect with one another. Participants can share tops on how to navigate the complex transfer process and resources for managing the stress that arises during the application process.
The group will be facilitated by our amazing clinician Alan Palmer, who is also a former transfer student who is now a Ph.D. candidate at Palo Alto University (PAU).
---

Zentangle Wellness Workshops
Group will meet on Wednesdays beginning April 6
Sessions will be from 11 a.m. to noon
Looking to reduce stress, calm your body, be creative and have fun? All Foothill and De Anza students, faculty, and staff are invited to Zentangle gatherings this Fall.
The Zentangle Method is an easy-to-learn, relaxing and fun way to create beautiful images by drawing structured patterns. The recommended supplies are a micron, gel, or felt tip pen (ball point not recommended); some plain paper, bullet journal or 3.5 inch square tile; a graphite pencil; and a blending stump or q-tip — but anything you have at home is great.
These wellness workshops are co-hosted by Foothill Psych Services, Foothill Wellness Ambassadors and Foothill Project Hope Club.
---
Keep In Touch!
Follow @da_psychserv on Instagram
---
---
Are You Looking for Crisis Counseling or Help Services?
For information about crisis counseling or to make an appointment with a Psychological Services therapist, please contact the Psychological Services office at 408.864.8868.
You can also find information about crisis counseling and support resources outside of De Anza by visiting our Counseling resources list.