Welcome to the Office of Equity, Social Justice and Multicultural Education!
For more information and special accomodations, please reach out to Adriana Garcia and or call at 408-864-5636, Mondays and Wednesdays 9am-3pm or reach out to DSPS at this email
The Equity Office is part of De Anza's Equity and Engagement Division. We are committed to the college's Student Equity Plan for 2019-2022.
Black Lives Matter
Standing Against Racism Resources
The Office of Equity, Social Justice, and Multicultural Education joins the solidarity to offer our support and deepest condolences to the friends, family, and loved ones of the Buffalo 10 residents who lost their lives, and or were injured, while peacefully running errands to support themselves and their families.
Donate- Go Fund Me and How to Prevent Scams and FeedMore and for Mental Health Resources
Consistent with our values and mission of advancing diversity, equity, inclusion and justice, we call on our entire FHDA community to come together, offer each other solace and support, and always demonstrate the values of humanity and respect to lift up every day. To stand up against racism, bigotry, and hatred and never allow senseless acts of violence happen in our community we must continue to collectively denounce and act and violence in all its ugly and horrific forms, whether it be racial, ethnic, religious, sexual orientation, gender or otherwise.
"Let's say their names, their lives matter:
Roberta A. Drury, 32, who had moved to Buffalo to be with her brother, who had a bone marrow transplant
Margus D. Morrison, 52
Andre Mackneil, 53
Aaron Salter, 55, a retired police officer who was working as a security guard in Top Friendly Mart grocery store. Aaron is a hero, who lost his life while attempting to stop the attacker.
Geraldine Talley, 62
Celestine Chaney, 65, a devoted grandmother
Heyward Patterson, 67, a dedicated churchgoer who drove people to and from the supermarket
Katherine Massey, 72, a community activist with a "beautiful soul", according to her sister
Pearl Young, 77, who dedicated her Saturdays to working in a soup kitchen
Ruth Whitfield, 86, who had just been to visit her husband in a care home
The youngest victim, store worker Zaire Goodman, 20, was released from hospital after being shot in the neck. Jennifer Warrington, 50, has also been treated and released, while Christopher Braden, 55, is in stable condition."
*From Right To Be
Learn More - NPR, The Atlantic, The New Yorker,

Get Involved
On Campus: African American Studies, Students UMOJA, Black Faculty, Staff, Association, Men of Color, Black Student Union,
Community - Movement for BLM, White-Allies SURJ, Asian Allies _People's Movement for Justice and Liberation,
Muwekma Tribe - Call to Action
Learn - Muwekma Ohlone Tribe and Partnering Up For a Brighter Future w/POST
Donate - Muwekma Foundation and Help Restore Federal Recognition to Muwekma and COVID Relief Fund
Act - Sign the petition urging California's legislators to pass the Muwekma Ohlone Tribe resolution SJR 13 and Sign the Muwekma Letter to RESTORE FEDERAL RECOGNITION Back to the Muwekma Ohlone Tribe of the San Francisco Bay Region
Mission Statement
The Office of Equity, Social Justice and Multicultural Education promotes — through programs and services — an academic, cultural and social environment that provides equity, social justice and academic success for all members of the De Anza College campus community. It supports the district and college missions, which consider diversity an essential component of student education in the 21st century.
The Equity Office takes this charge seriously. We have expanded our mission of fostering a climate of healthy diversity that values individual and group differences and respects the perspectives of others by working to eliminate institutional oppression or barriers that perpetuate inequity, injustice, and mono-cultural education.
---
Asian Pacific American Heritage Month
May is Asian Pacific American Heritage Month; check out the awesome events that APASA is facilitating in celebration.
College Access Leader and Consultant
APASA is hosting Speaker Meredith "Mer" Curry Nunez.
For more information and special accommodations, reach out to event organizer, Karen Chow at chowkaren@fhda.edu
She/her serves her community as a Black and Filipina Bay Area native, advocate, and nonprofit leader. Mer is the Owner & Principal Consultant of AdvancED Consulting, LLC, a small consultancy firm with a California-focus serving BIPOC (Black, Indigenous, People of Color) and WOC (Womxn of Color) leaders and communities in reaching their highest potential. Whether it's implementing operations, activating authentic leaders, cultivating dynamic teams, institutionalizing flexible processes and procedures, or even reconnecting the body and mind through healing dance sessions and grounding meditations, Mer's personal and professional mission is to bring out the leader in all of us, and to redefine leadership to incorporate the critical element of HEALING.
See Events Below
"Exploring Intersectionality in the Workplace"
Wednesday, May 18, 2022 from 10:30 a.m. - 12:30 p.m.
Dr. Curry discusses intersectionalities and how it impacts leadership at work and school, and how you can explore what your strengths are.
"Defining your Leadership Style" Workshop
Wednesday, May 18, 2022 from 3:00 p.m. - 4:30 p.m.
Learn how to acknowledge who you are, what you bring to the table, and adapt to present opportunities with specific strategies.
"Office Hours: Adopting Your Authentic Leadership Style"
Wednesday, May 25, 2022 from 3:30 p.m. - 5:00 p.m.
Taking what you learned on May 18, join Mer and others for office hours to ask questions, get feedback on goals and get more leadership tips and tools.
JPG Flyer Below | PDF Flyer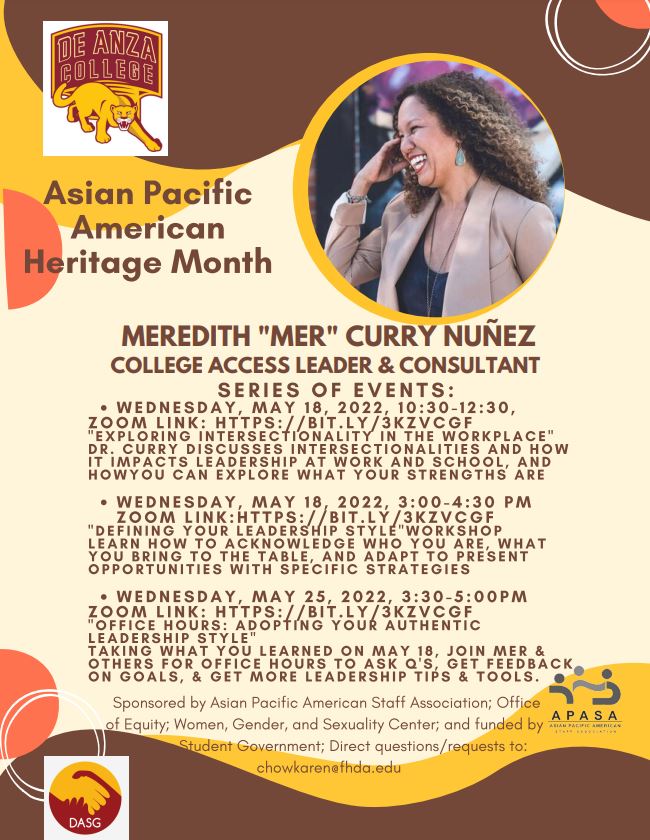 Asian Representation in the Media
*Student Led Event
Tuesday, May 31, 2022
1-2:30pm
Virtual via zoom | Registration
JPG Flyer Below | PDF Flyer
For more information and special accommodations: Anthony Santa Ana santaanaanthony@fhda.edu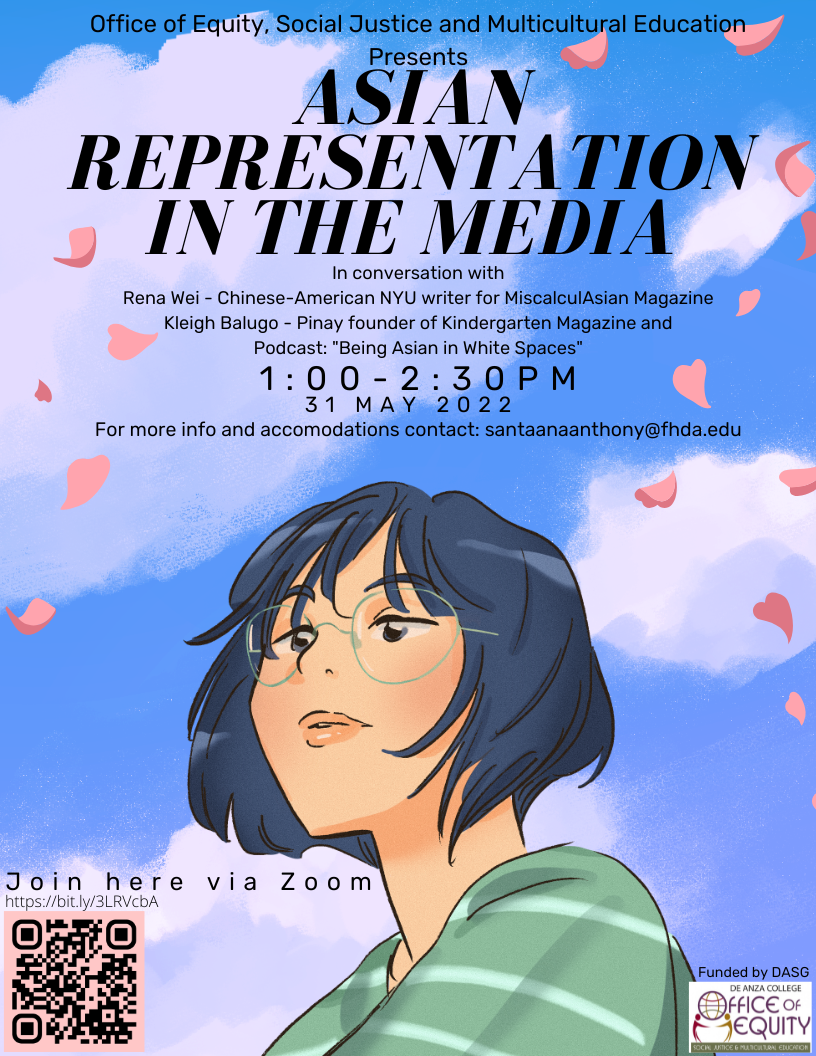 Sponsor: Office of Equity, Social Justice and Multicultural Education
Funded by: De Anza Student Government (DASG)
Hosted by Claire Albis, Office of Equity Scholar Activist Intern, and in conversation with Rena Wei-Chinese-American NYU writer for MiscalculAsian Magazine & Kleigh Balugo -Pinay founder of Kindergarten Magazine and Podcast: "Being Asian in White Spaces".
Jewish American Heritage Month
May is also Jewish American Heritage Month and we are celebrating it here at De Anza for the first time in 2022 with a series of virtual events!
May 12 from 3-5 PM
An Afternoon with Gabriella Karin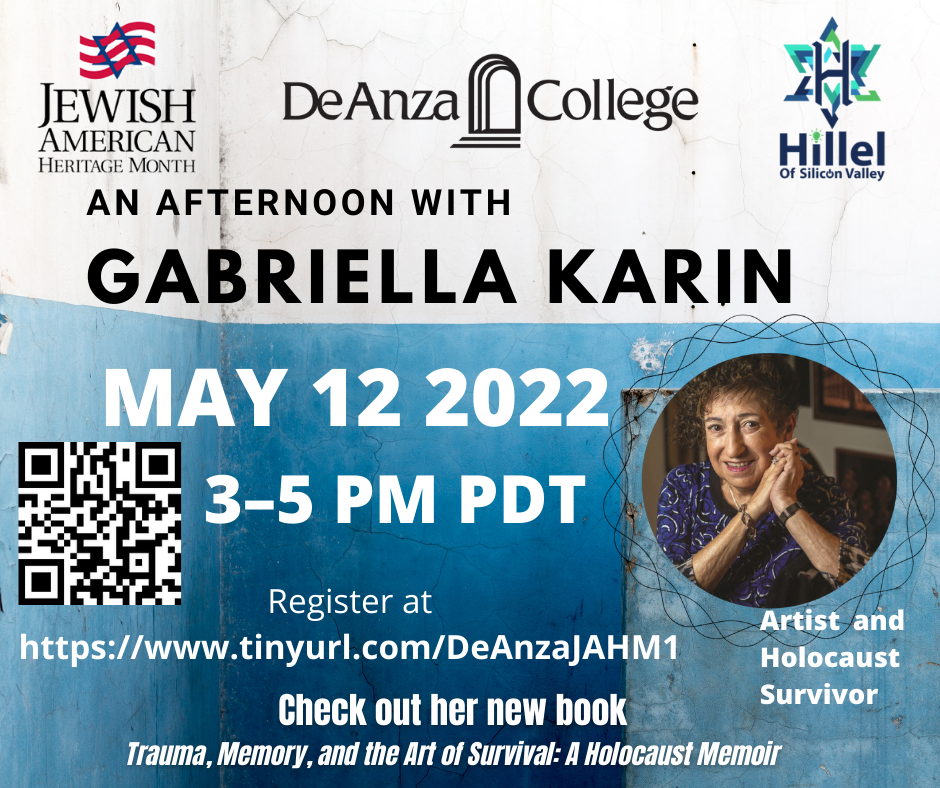 May 16 from 2-4 PM
Intersectional Jewish Identities Panel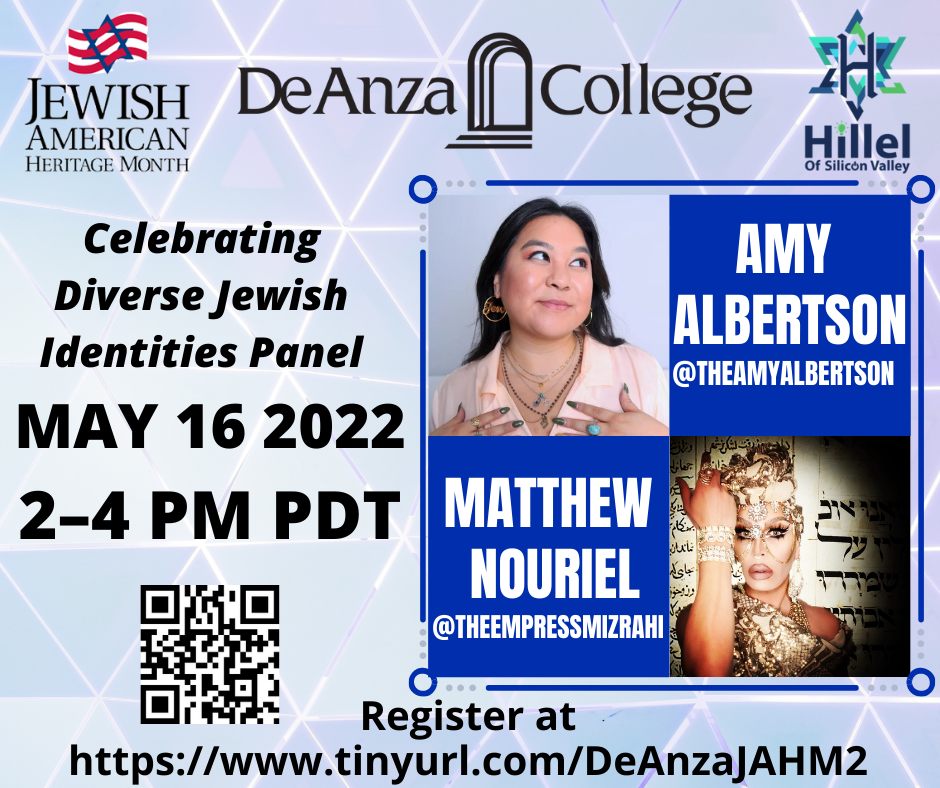 May 19 from 3-5 PM
Jewish Diversity and Inclusive Learning Communities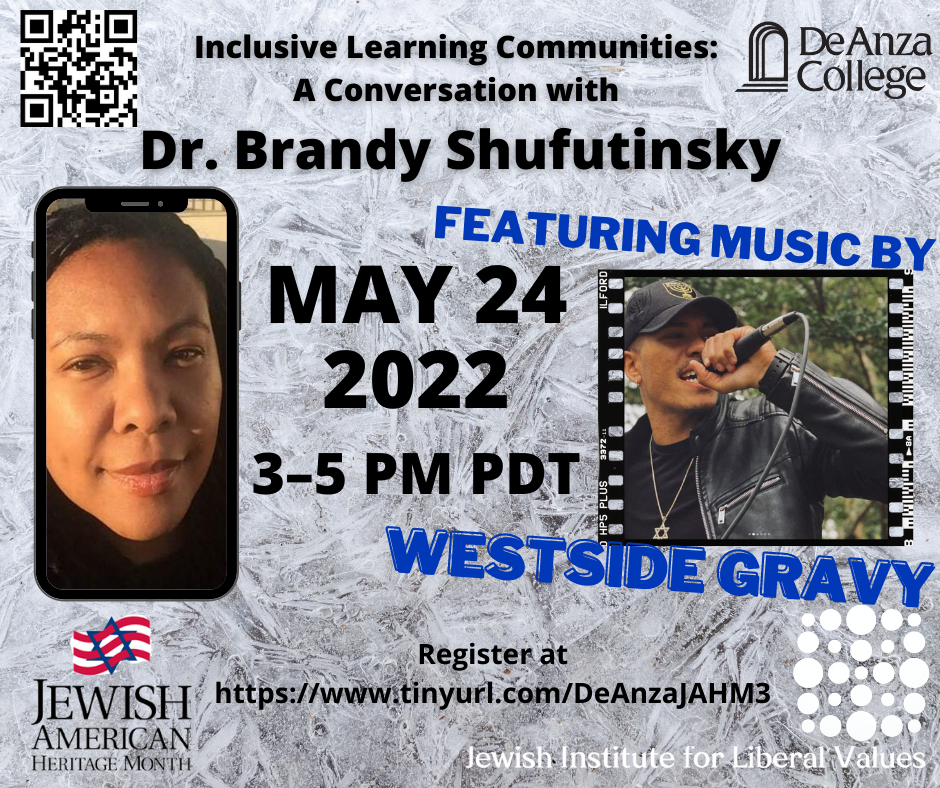 For more information contact: Dr. Tabia Lee, Faculty Director for the Office of Equity, Social Justice, and Multicultural Education
---
Heritage Month Workgroup Forming
A Heritage Month Workgroup is forming to build our capacity and coordination for recognition and acknowledgment of the diverse Heritage Months. The Heritage Month Workgroup will provide support and assistance for celebrating the Heritage Months that are central to our efforts to elevate inclusion, diversity, and equity for a more connected and engaged learning community.
If you are a member of an affinity group that organizes heritage month events, we appreciate your input and look forward to continued support of your efforts as we also seek to round out our Heritage Month celebrations, fill in the gaps, and take the necessary steps to celebrate even more diverse Heritage Months at De Anza College.
At this time, we are looking at one meeting during the Spring Quarter to get some collaborations going on the 2022-2023 Heritage Month Calendar. We welcome you to join in on the Heritage Month Workgroup Meeting June 9 from 3:00-4:30 PM on Zoom.
All are welcome to participate in the workgroup and to complete the Heritage Month Survey to inform our efforts.
For more information contact: Dr. Tabia Lee, Faculty Director for the Office of Equity, Social Justice, and Multicultural Education
---
Ethnic Studies
Solidarity an Art Exhibition: Demonstrating Art with the Theme of Solidarity
*Student Led Event
June 9, 2022
1:00-4:00pm
In Person: De Anza College @ The Office of Equity, Social Justice and Multicultural Education Office (MLC 250)
JPG Flyer Below | PDF Flyer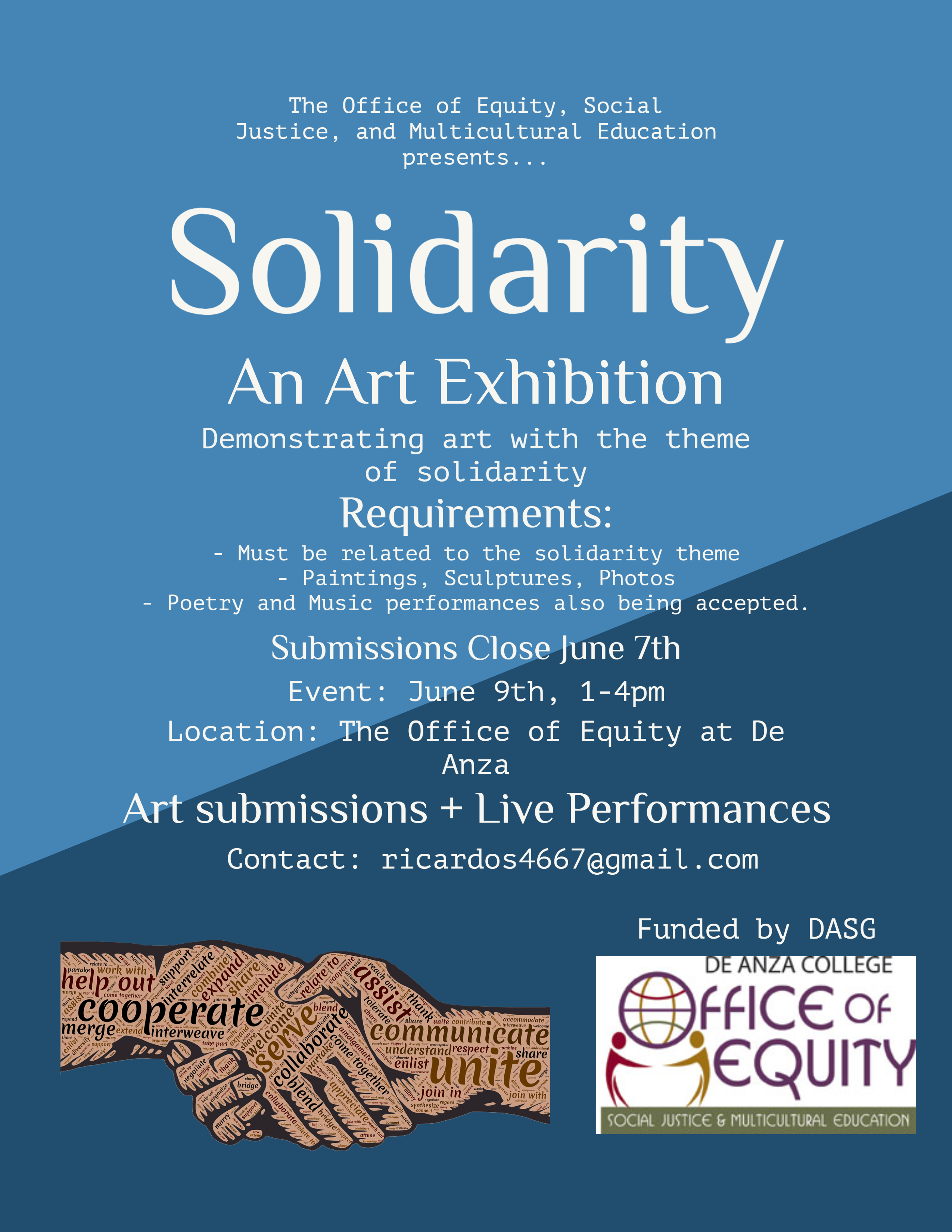 Sponsor: Office of Equity, Social Justice and Multicultural Education
Funded by: De Anza Student Government (DASG)
Hosted by Ricardo Sanchez, Office of Equity Scholar Activist Intern. An afternoon of amazing performances and solidarity themed art pieces. Come chill and connect. Light snacks will be served.
If you would like to submit art pieces and/or perform, the requirements are:
Must be related to the solidarity theme
Painting, sculptures, and photos highly recommended
Poetry and music performances encouraged
Please submit by June 7, 2022 and contact Ricky at EquityOffice@deanza.edu
Program Reviews Due May 20, 2022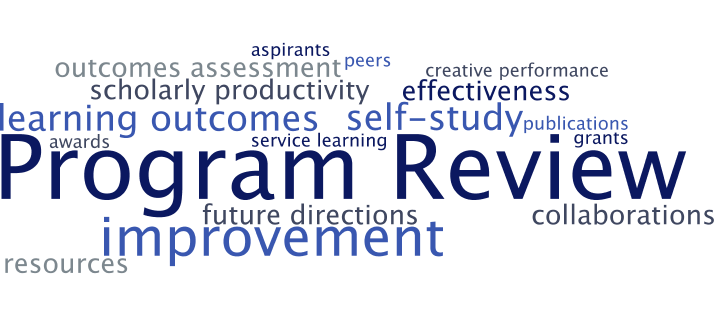 It's Program Review Time and you don't have to go it alone.
Should you require technical assistance with completing your Program Review and/or aligning it with our Student Equity Plan Goals, drop in to the Faculty Director Zoom Drop-In Office Hours Monday, Wednesday, and Thursday from 11:30-12:30 - Join in any time and/or Reserve an Appointment with Lee Talk to you soon!
For more information contact: Dr. Tabia Lee, Faculty Director for the Office of Equity, Social Justice, and Multicultural Education
---
On-Demand Jewish Inclusion and Anti-Semitism Community Education
In Winter 2022 we held a virtual summit to center Jewish Inclusion at a time when anti-Semitism is on the rise locally and globally. The Jewish Inclusion and Anti-Semitism Community Education Summit topics included: Defining Anti-Semitism, Protecting Freedom of Expression in the Face of Rising Intolerance, Crossing the Line 2: The New Face of Anti-Semitism on Campus, Intersectional Identities: Diverse Voices from the Jewish Community, and Forgotten Refugees: The Mass Exodus of Jews from Arab Countries and Iran in the 20th Century. We are most thankful to the community advisors and panelists who made the summit a great success!
Please visit the Summit website to review the event recordings and explore the resources to extend the learning: https://tinyurl.com/DeAnzaJewishInclusion
For more information contact: Dr. Tabia Lee, Faculty Director for the Office of Equity, Social Justice, and Multicultural Education
---
2021 Event Recordings
Watch some of our previous events for Equity inspiration.
---
Districtwide Professional Development
Dr Joy DeGruy: The Conversation Continues
In April, the district held the third event in a series of conversations with Dr. Joy DeGruy to deepen our understanding of the effects of institutional racism, discrimination, and marginalization, and steps we can take within our district to become a more equitable learning and work environment. here is this recommended self directed study for this event. Check out her YouTube Channel
For More Informaiton: Pat Hylan HylandPat@deanza.edu.
LibGuide
To continue exploring and studying Dr. DeGruy's work, please visit this Foothill-De Anza LibGuide: An Introduction to Dr. Joy DeGruy and Anti-Racism
For more information, please send an email to Keri Kirkpatrick kirkpatrickkeri@fhda.edu
---
Stop Asian Hate
Stop AAPI Hate: You can report incidents of aggression, racial profiling, and violence here in English, Chinese, Korean, and Vietnamese. The Asian Pacific Policy & Planning Council created this reporting center.
In this historic year of cultural shifts, we invite you to align to the core values of equity and social justice. We have opportunities to be upstanders and we can learn from these Educational Resources on Anti-Asian Scapegoating created by the Asian American Studies department.
We Stand by Our International Students at De Anza
Equity and Justice Resources
What do we want? Justice! When do we want it? Now!
Please see our Conceptual Framework visual, explore our website regarding Guiding Assumption and Core Values and equity resources as well as student resources during this online learning experience. Check out these webpages, too:
---
Stay Connected!
All of us in the academy and in the culture as a whole are called to renew our minds if we are to transform educational institutions-and society-so that the way we live, teach, and work can reflect our joy in cultural diversity, our passion for justice, and our love of freedom.

- bell hooks, scholar